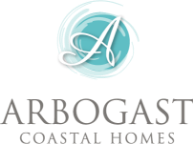 Relaxation, Refined
Arbogast Coastal Homes is a custom homebuilder in Port A, committed to absolute client satisfaction. With a focus on the details that make a beach home both beautiful and relaxing, Tod Arbogast and his team deliver on a concierge experience. From the first meeting where you'll let your imagination run wild, to the delivery of your new home you'll enjoy the peace of mind that expertise in custom homebuilding and exquisite craftsmanship bring. The goal for Arbogast Coastal is that every client's only concern is how they will enjoy their new, luxury vacation lifestyle.
When we decided to build our beach house, Arbogast Coastal became our obvious choice, based on our interactions with Tod and team and viewing their many high-quality projects and impressive accolades. Their team was exceptional to work with from day one. We did not use an outside design team and the Arbogast Coastal team helped coordinate with our architect, were very helpful with design changes through to construction completion and were fantastic at addressing any minor issues that arose post-completion. Special thanks to Jake, Marcus and Tara for managing the process and for producing a fantastic house. We were so pleased with the Arbogast team that we've decided to build with them again.
You will love working with Jake! He responds quickly and always finds the right person to service your needs. We love the house he built for us!
Arbogast Coastal Homes made our dream vacation house a reality. From our very first contact with Arbogast, the entire team was professional, punctual, and friendly. The building process was streamlined and very smooth. Even after completion, the team stood by their work and was quick to respond to any issues. The quality and durability of our home exceeded our expectations, and our family will enjoy it for many years to come.
We were fortunate enough to buy an Arbogast spec home near completion in Cinnamon Shore North in the summer of 2020. We closed the day before a hurricane struck! We were panicking! However, the house literally weathered the storm with zero issues. And if that was not enough, the house survived the deep freeze the following winter without any issue that we or the Cinnamon Shore team could identify. We consider this a major accomplishment worthy of high praise. We are not sure what nature has left to throw at us, but when and if the meteor strikes, we expect the house will stand tall and unfazed. Beyond the initial construction, Tod and Hunter were extremely helpful and accommodating when it came to tweaking things around the house. They are truly professional and stand by their work. We couldn't be happier with them.
Arbogast Homes built our beach house in 2019 on the Texas Coast. Under the supervision of Jake Blair it was done on schedule and done with close attention to detail. In fact I cant really remember a punch list when they finished. Over the last two years I have been happy to give references to their prospective clients and will continue to do so going forward. If we were to build another beach house there would be only one contractor we would even consider and that is Arbogast Homes.
When I first started my journey to build my dream vacation home there were so many unknowns and choices to make. It was an exciting period. Once the design was completed, it was time to hire a builder. . Working in the construction industry myself, I wanted to work with a builder that valued trust, integrity, had great communication, treated me as a valued client, and of course represented value. Who would I choose, who would share in the excitement of building my dream home with me? Arbogast Homes. I knew I made the right choice the first time I talked to Tod Arbogast. He made me feel like my project was important to him and had his personal commitment. Throughout the build Tod Arbogast and Jake Blair were highly communicative, flexible with decisions and ultimately delivered a home that exceeded my expectations. At the time my home was one of the first homes that Arbogast had built in Cinnamon Shores. It has been great to see their success and I am proud to share my house as a representation of the quality they construct. Just as important as the quality, I am extremely pleased with the way I was valued as a client before, during and after completion. A special thanks to Tod and Jake!
This will be our second home built by Arbogast Homes in the Palmilla community. As we looked at other builders, we found Arbogast Homes to be of the highest quality and use building standards that exceeded our expectations. Jake, Tod, and Hunter are great to work with and are super responsive. The collective team is well-organized and makes the entire process, from the home design to punch list items, very easy and enjoyable. Highly recommend!
We can't say enough about how happy we are with Arbogast Custom Homes. We have been around construction, but never built a personal home from the ground up and didn't think we would be doing so while living in another city, but Tod established a level of comfort and confidence and Jake held our hands through the entire process. Tod and Jake were extremely helpful and knowledgeable of the building process and timing. They were patient when I made changes on site and helped keep me on task with my tile, fixtures and appliance deadlines. Jake always went above and beyond in communicating with us, while always making us feel like we were their most important client. The quality of the craftsmanship that went into our home is beyond words – A++! Sharp edges, no caked in corners, doors open and close correctly, level floors, the list goes on. All of this was done within budget and on time. We are truly appreciative of all of the hard work that went into constructing our home from the first hand shake to the last hug.
Jake at Arbogast Homes was so easy to work with. He is efficient, competent, and willing to work with the client to really give them what they want when building a home. The work site was always kept clean and his crew works hard to finish within the allotted timeline. As a result, we have a gorgeous new place to share with our family and friends! Thank you, Jake and everyone at Arbogast!!!
Working with Jake Blair and Arbogast homes was one of the cleanest most pleasant experiences I have had in my life. My professional life entails working with contractors and their crew and this outfit is top notch: They helped my wife and I every step of the way, answered questions and did exactly what they said they would do every step of the way. Any change orders or course corrections they made it happen with ease. They stand by their product and take pride and what they do. If I build another home in Texas they will be first and last choice. I highly recommend this crew!
We were the first homeowners to move into our new home in Cinnamon Shore South due to the excellent time management of Jake Blair with Arbogast Coastal Homes. This was our first time to build a home (7 hours away) and we could not be any more thrilled. Jake and his team were great to work with, they had great communication and helped us with every little step along the way. The attention to detail, integrity, and professionalism was beyond our expectations. The customer service was beyond impressive with the text updates / phone calls we would receive, ease of change orders, and following ups even after we closed on our home. We are absolutely thrilled with our home and would 100% use Jake with Arbogast Coastal Homes again in the future to build another home and will always recommend them to friends and family. Thank you Jake and his team for building us a beautiful beach home!